Throughout his career, and above all else, Prof. Laccetti has stressed the importance and necessity of critical thinking in his classes. Over the years, his students have often noted this particular life-long legacy he gave to them.
That same spirit of inquiry informed by reason is the hallmark of his editorial writing and is suffused throughout his award-winning book.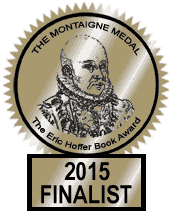 The Eric Hoffer Award Montaigne Medal Finalist
Each year, the Eric Hoffer Award for books presents the Montaigne Medal to the most thought-provoking book(s). These are books that either illuminate, progress, or redirect thought. The Montaigne Medal is given in honor of the great French philosopher Michel de Montaigne, who influenced people such as William Shakespeare, René Descartes, Ralph Waldo Emerson, Friedrich Nietzsche, Jean-Jacques Rousseau, and Eric Hoffer. This is an additional distinction beneath the Eric Hoffer Award umbrella.
An American Commentary presents a unique perspective on fundamental problems changing America in a changing world. Author Silvio Laccetti sees us at the start of a new era in history, just as humanity was some 500 years ago at the time of the Renaissance.
This compilation of 60 powerful short essays probes the dynamics of a wide range of social issues facing America today. After his critical analysis, Laccetti proposes pathways to solve problems. And, each essay is followed by a New Commentary section which updates each editorial and adds unexpected, refreshing personal material as well.
Laccetti brings to this task all his knowledge, insights and wisdom gained from a lifetime of teaching and learning, scholarship and public policy making. His talent is enhanced by an appreciation of the Classics and the values that they have inspired and represented throughout the ages. The result is a highly objective, reasoned - but startling - commentary on inflammatory issues confronting our society. After reading this book, the reader will look at the world in a different way!
An American Commentary is a must-read for any concerned American interested in the nature of our social dilemmas. With tons of material tightly packed in each essay, serious students of American History, Social Science, American Studies and General Humanities will treasure this volume. You will not forget An American Commentary. It will be a permanent addition to your library and your thinking about America and the future of the world.
About the Author
Dr. Silvio Laccetti

Silvio Laccetti began his distinguished college teaching career in History and Social Sciences at Stevens Tech. when he was just a few years older than his senior students!

Over the decades, he has been the recipient of numerous awards for teaching excellence, including recognition by the Danforth Foundation and the Woodrow Wilson National Fellowship Foundation.

He has also received three Outstanding Teacher Awards from Stevens. He has published four books and countless articles, essays and editorials. Dr. Laccetti is a Pulitzer prize nominee.

In his professional work, Professor Laccetti has sought to enlarge the classroom experience by creating teaching and learning opportunities with hands-on internships in public service. These efforts have had local, state and national impacts and a profound influence on his students.

The author has also been a consultant to business and industry, a civic organizer and a public policy advocate both in New Jersey and nationally.

His editorial journalism is tremendously enriched by these many endeavors and by the expertise he has accumulated over a lifetime of achievement.